CELPIP Course Reviews in just the Last 24 Hours!
Here is what students have to say; the reviews speak for themselves! Check out many more CELPIP 15-hr Course Reviews on this link: https://hzadeducation.com/product/classes-celpip/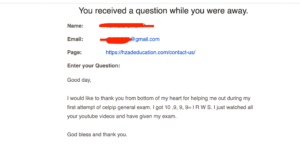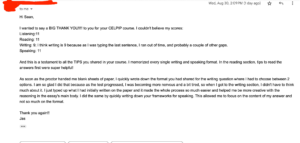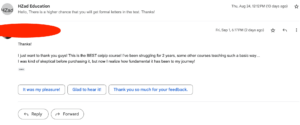 These are the reviews from our CELPIP self-paced course in just the last 24 Hours!
Here is why this course is so popular:
Note: 30-day MONEY-BACK GUARANTEE, no questions asked!
This 15 hr self-paced CELPIP course compels the examiner to give you a 10 or more! How?
The course has been compiled after years of teaching thousands of CELPIP candidates, who have easily jumped 3-5 points after taking this course.
This course covers everything you need to know (on speaking, writing, reading, and listening) to ace your CELPIP exam, whether it's days or weeks away.
Learn from Canada's top CELPIP experts; their proven methods ensure your success in your immigration dreams! Just check how our students have cleared the CRS scores and English proficiency requirements after taking the 15 hours (reviews below and all over online).
What you'll learn:
Proven 10+ (copy/paste) templates for writing and speaking
Sample materials from top students, alongside instructor feedback, for listening, reading, writing, and speaking to better understand how you are being critiqued
Detailed accounts for special punctuation, vocabulary and sentence structures that need to be used in the speaking and writing exams in order to align with the examiner criteria
The use of complex and simple sentences
Simplified strategies to read quicker and answer questions correctly
Secret note-taking strategies for listening
Finally, master the art of timing all modules
400+ CELPIP based words (and now 400 more bonus words!)
And so much more!
After this course, you will:
Possess the confidence and skills to ace your exam in one sitting
Find a clear path to scoring a 10+ with proven techniques
Get closer to your immigration dreams and finding your new life in your chosen country
No longer burn time, money, and effort constantly rebooking the exam
Also, witness a huge improvement in your overall English writing and speaking abilities
Also, be too excited not to share about your massive success!
Get IMMEDIATE (Lifetime) ACCESS:
Right after your purchase, you will receive a personalized link where you can start the course right away!
Check out a sample course video here: https://www.youtube.com/watch?v=QxzKIh_E3bg&embeds_referring_euri=https%3A%2F%2Fhzadeducation.com%2F&source_ve_path=MjM4NTE&feature=emb_title
___
BONUS OFFER: Use the coupon code

CEL9

to receive a 20% discount in the next 24 hours!